Take Heart
Encouragement for Earth's Weary Lovers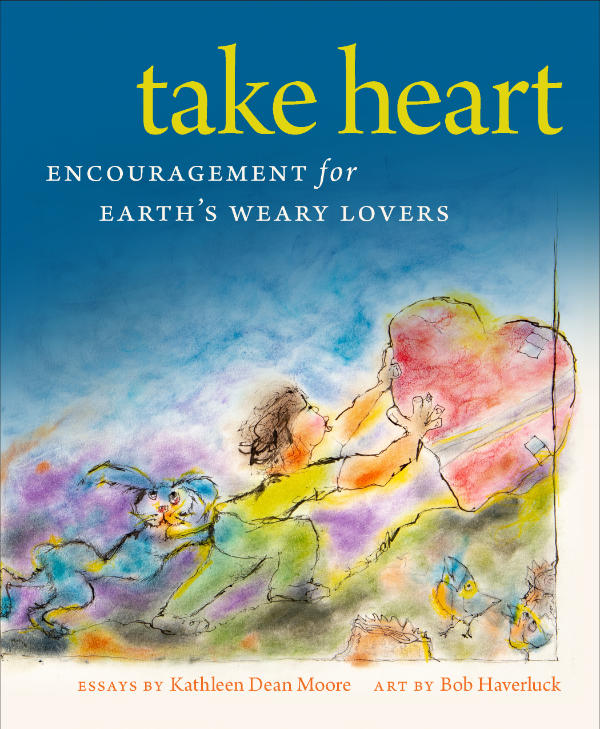 Publisher's Description
Earth's weary lovers are tired, perplexed, and battered from all directions. They've been working for environmental sanity, social justice, and ecological thriving fo years. Their hearts have so often been broken. It's hard to go on, but it is morally impossible to quit. How do Earth's protectors find the heart to continue the struggle? To this question, writer/philosopher Kathleen Dean Moore and artist Bob Haverluck bring twenty-two life-affirming essays and drawings. They offer deep and honest reasons why courageous work for the environment matters more than ever. Not another to-do list or an empty promise of hope, Take Heart is a thank-you gift to the multitudes of Earth's defenders. Inside its pages, they will find reason to take heart.
2022 INDIES AWARD FINALIST, Foreward Reviews
Selection
Hope in hard times is ferocious. It is strong and razor sharp. It is wild. It is stubborn. It is driven. It may choose its time, but it seizes its chance with open talons and drags it to shore, no matter how long that takes. Hope  uses all its strength and wile and never gives up, knowing that if it stops trying, it will drown.
So call in all the feathered things that are perched somewhere in your weary soul – the harpy eagles and the sharp-shinned hawk. Call in the cassowaries and the shrikes. What we need is strength – strength in numbers and strength in moral conviction. What we need is shrieking, roaring courage.
Reviews
"I don't know who else needs this, but I sure did – and I suspect I'm not alone. It's crucial that we support and hearten each other along this hard course we're running, so this beautiful book arrives as a vital tool." – Bill McKibben, author of The End of Nature
Purchase
At your favorite independent bookseller or Amazon.com.