Pardons
Justice, Mercy, and the Public Interest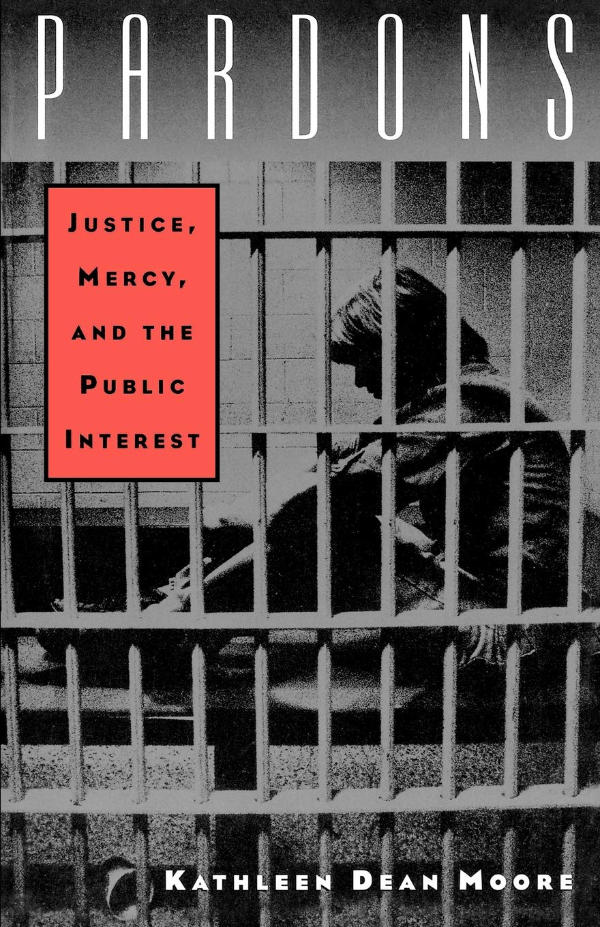 Publisher's Description
Moore's timely and highly readable volume addresses many crucial questions surrounding acts of clemency, including what justifies pardoning power, who should be pardoned, and the definition of an unforgivable crime. Illustrating her argument with rich and fascinating historical examples – some scandalous or funny, others inspiring or tragic – Moore examines the philosophy of pardons from King James II's practice of selling pardons for two shillings, through the debates of the Founding Fathers over pardoning power, to the recent presidents' record low number of pardons. 
Selection
When a person's reputation is ruined, it is common to say, "His name is mud." The expression comes from a story that began the night President Abraham Lincoln was shot. His assassin, John Wilkes Booth, made his escape by jumping from the President's theater box to the stage, breaking his leg. In serious need of medical attention, Wilkes covered his famous face with a false beard, rode through the night to a country village, and knocked on the door of Dr. Samuel Mudd. Dr. Mudd set the stranger's leg and thought no more about the nighttime call until he learned the next day of the President's assassination.
His suspicions aroused, "Dr. Mudd went straight to the police, who arrested him as a conspirator in Lincoln's assassination. He was treated cruelly and unfairly in jail and at trial – chained, his head tied in a canvas bag, his ears stuffed with cotton, denied an attorney, his witnesses intimidated. He was convicted and sentence to life in prison. His name was Mudd, dirtier than dirt, trampled underfoot.
Four years later, a yellow fever epidemic swept through the prison where Dr. Mudd was held. Dr. Mudd fought the epidemic with skill, selflessness, and courage. When it was over, Dr. Mudd was pardoned, "in recognition of his heroism in fighting the epidemic." Since the pardon made no reference to his innocence or to the injustice of his sentence, his name was still Mudd.
Was that an abuse of pardon?
Reviews
"Extraordinarily engaging reading. Once I got started, I couldn't put it down . . . Not only is there nothing like it in modern philosophical literature – despite a great volume of material on punishment – but it is of very high philosophical quality . . . A very important contribution to ethics and the philosophy of law. It goes well beyond anything anyone else has done." – Claudia Card, University of Wisconsin
Purchase
Your favorite independent bookseller or Powell's Books, https://www.powells.com