Bearing Witness
The Human Rights Case Against Fracking and Climate Change
Edited by Thomas A Kerns and Kathleen Dean Moore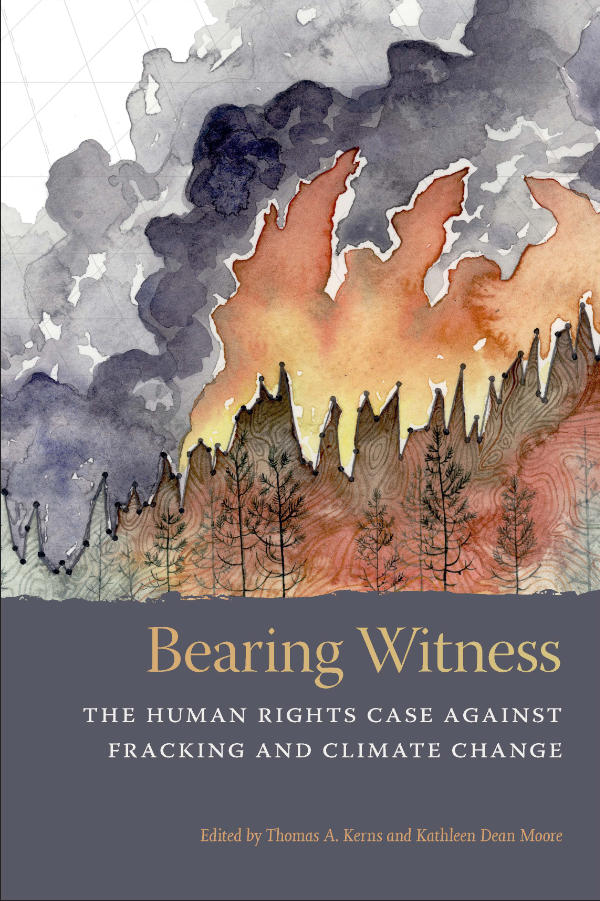 Publisher's Description
Fracking, the practice of shattering underground rock to release oil and natural gas, is a major driver of climate change and a direct harm to the health of people in nearby communities. In May 2018, an international human rights court, the Rome-based Permanent Peoples' Tribunal, found that fracking violates deeply and broadly accepted moral norms encoded in the Universal Declaration of Human rights.  Bearing Witness tells the story of this landmark case through carefully curated court materials, including eyewitness testimony, legal and moral testimony, and the Tribunal's Advisory Opinion. It maps a promising new direction in the ongoing struggle to protect the planet from climate chaos.
Selection
Of the 240 chemicals used or created during the fracking process . . . 65 percent are reproductive or developmental toxins.. . . [The expansion of fracking] expands the scope for the deadly, large-scale experiments in poisoning humans and nonhumans that the fracking industry is currently conducting in violation of the Nuremberg Code.
Reviews
"Bearing Witness is a devastating indictment of the controversial practice of fracking for oil and gas and more broadly the legal responsibility of coal, oil, and gas corporations for polluting the planet with vast volumes of greenhouse gases. It is crystal clear that in a world dedicated to human rights and gripped by an unprecedented climate emergency, fossil fuels must be phased out as rapidly as possible." – David Boyd, United Nations Special Rapporteur on human rights and the environment
Purchase
Your favorite independent bookseller or Amazon.com.