About Kathleen Dean Moore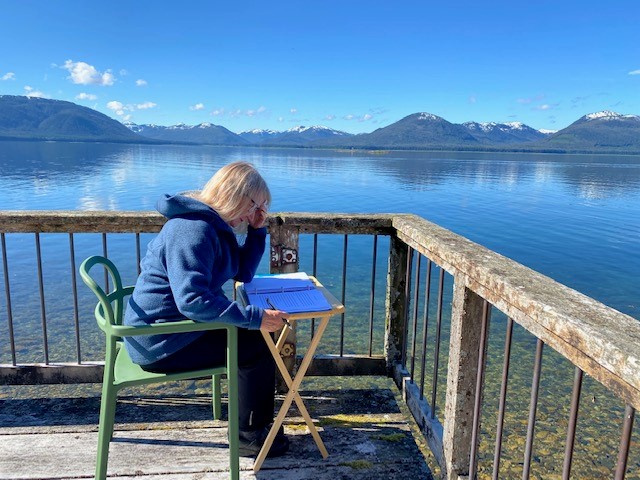 For many years, Kathleen Dean Moore, Ph.D., was a prize-winning nature writer and professor of environmental ethics at Oregon State University. But her alarm at the growing climate and extinction crises led to her leave academia, so she could write and speak full-time about the moral urgency of action. Her first climate ethics book was Moral Ground: Ethical Action for a Planet in Peril (co-edited by Michael Nelson, foreword by Desmond Tutu). More recent books are Great Tide Rising, Earth's Wild Music, Bearing Witness, and now the illustrated Take Heart: Encouragement for Earth's Weary Lovers. Kathleen often works with music and film, having written the scripts for and performed in several short films produced by the Spring Creek Project, where she is a Senior Fellow. She writes from Corvallis, Oregon and from a wilderness cabin where two creeks and a bear trail meet a tidal cove in Alaska.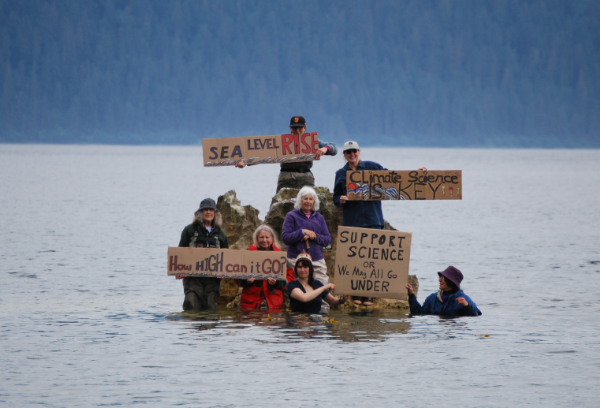 "Support science" climate action. Kathleen in red.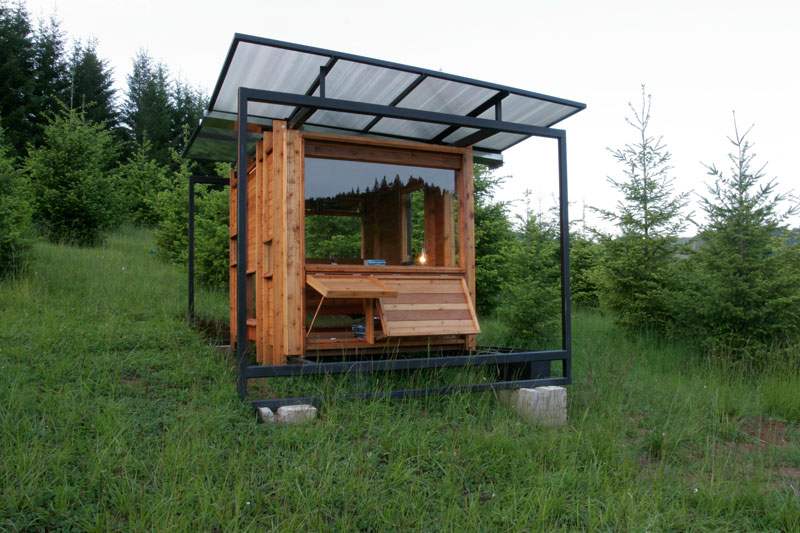 Cabin at dusk.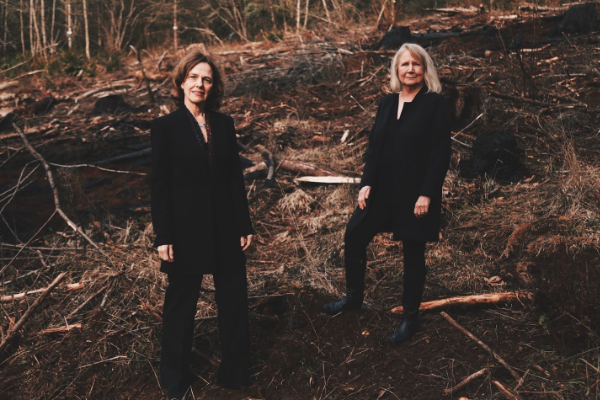 Concert pianist Rachelle McCabe and Kathleen in clear cut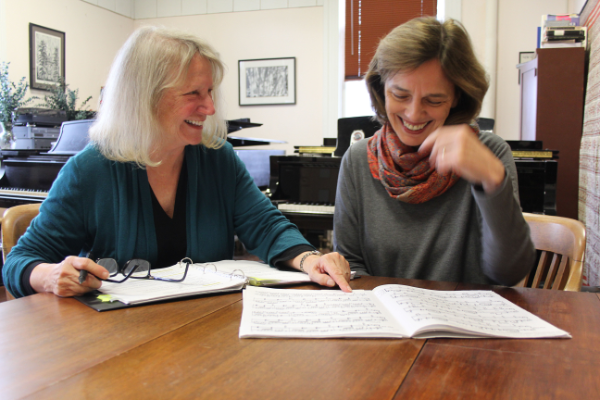 Rachelle McCabe and Kathleen planning "The Extinction Variations"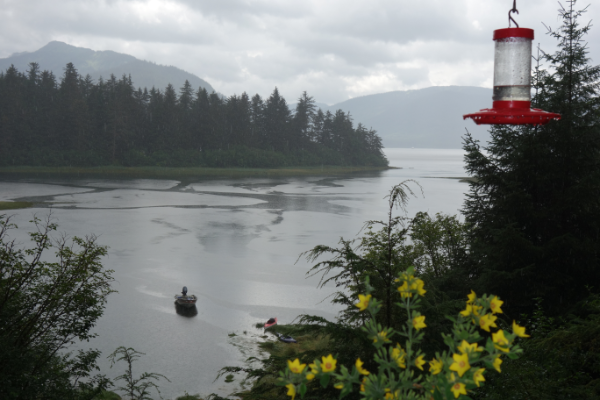 View from Moore's cabin in Alaska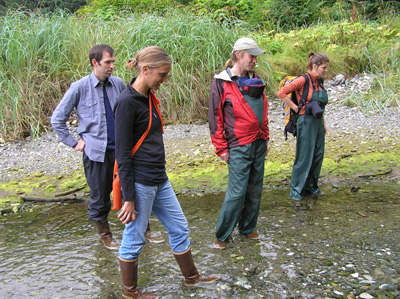 The greater Moore family in a salmon stream on Chichagof Island, Alaska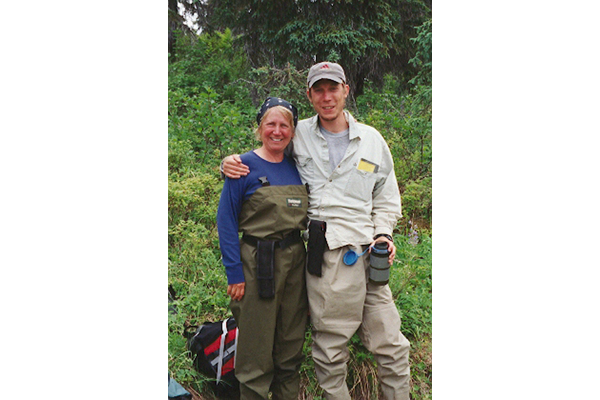 Kathleen and Jonathan wading Alaskan streams during the sockeye run.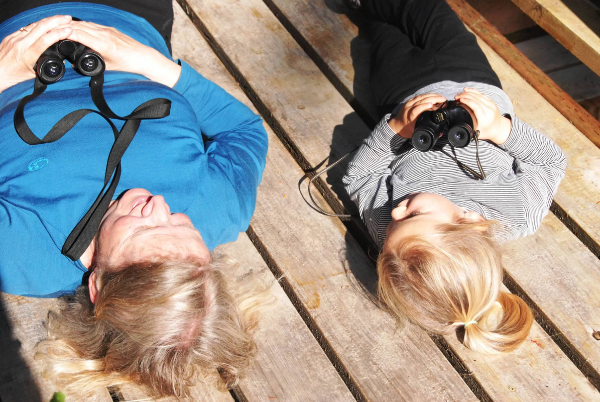 Kathleen and her granddaughter watching sandhill cranes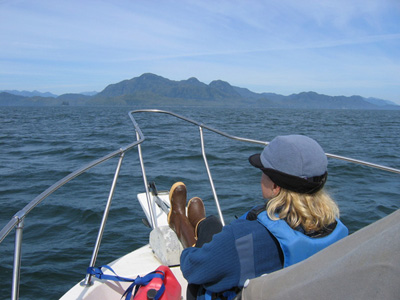 Kathleen en route to PIne Island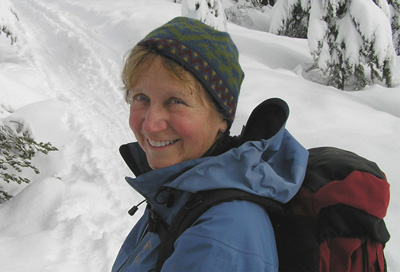 Kathleen at Gold Lake in Oregon.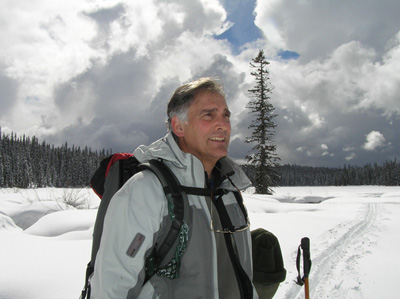 Frank Moore
Kathleen Dean Moore is a philosopher, activist, and award-winning writer, the author or co-editor of more than a dozen books about the lovely, reeling world. For many years, Kathleen served as Distinguished Professor of Philosophy at Oregon State University, where she taught environmental ethics and critical thinking. There, she first came to public attention with award-winning books of essays that celebrate and explore the wet, wild world of rivers, islands, and tidal shores – Riverwalking, Holdfast, Pine Island Paradox, and Wild Comfort. But her growing alarm at the devastation of the natural world called her to leave the university so she could respond directly to the moral urgency of climate action. With that decision, Kathleen began to write and speak out about our responsibility to protect a thriving future from corporate pillage and imminent environmental collapse.
Her first climate ethics book, Moral Ground: Ethical Action for a Planet in Peril (co-edited with Michael P. Nelson, foreword by Desmond Tutu) gathered testimony from the world's moral leaders about humanity's obligation to the future. Subsequently, Kathleen published Great Tide Rising: Finding Clarity and Moral Courage in a Time of Planetary Change, and a novel, Piano Tide, that Bill McKibben described as "savagely funny and deeply insightful." Her most recent books are Bearing Witness: The Human-Rights Impacts of Fracking and Climate Change (co-edited with Tom Kerns), a report on the recent trial of fracking before an international human rights court; Take Heart: Encouragement for Earth's Weary Lovers, short essays with ferociously funny drawings by Canadian artist Bob Haverluck; and Earth's Wild Music, which celebrates the songs of the natural world and mourns their passing.
Kathleen's essays are widely published and anthologized, having appeared in magazines such as The Atlantic, High Country News, Orion, Discover, Audubon, Utne Reader, Sierra, New York Times Magazine, Conservation Biology, and many others. Her writing is honored by awards that include the Willa Cather Award for Contemporary Fiction, the Oregon Book Award, a Choice magazine Outstanding Book Award, the Pacific Northwest Book Association Book Award, the Sigurd Olson Nature Writing Award, and in 2022, the Prix Ecrire la Nature for the French translation of Pine Island Paradox. Kathleen was granted an honorary Doctorate in Humane Letters from the SUNY College of Environmental Science and Forestry, and appointed an Honorary Member of the Association for the Study of Literature and the Environment.
A moral philosopher, Kathleen holds a Ph.D. from the University of Colorado. She has written, edited, or co-edited philosophical books on forgiveness (Pardons: Justice, Mercy, and the Public Interest), Apache philosophy (How It Is: the Native American Philosophy of Viola Cordova), Rachel Carson (Rachel Carson: Legacy and Challenge), and critical thinking (Reasoning and Writing). Currently, she is a member of the Council for an Uncertain Human Future, Clark College, Massachusetts.
Kathleen has a special interest in the role of the literary arts in environmental action. While at OSU, she co-founded and for many years directed the Spring Creek Project for Ideas, Nature, and the Written Word, where she now serves as Senior Fellow. She co-founded the Long-term Ecological Reflections program at the H.J. Andrews Experimental Forest, a program intended to gather literary responses to the forest for two hundred years. She has written the scripts for a number of films produced by the Spring Creek Project. The first is a musical performance about species extinction, "The Extinction Variations," in which she weaves her words into a Rachmaninoff composition performed by concert pianist Rachelle McCabe. Other films include "Bedrock Rights: The New Foundation for Global Action against Fracking and Climate Change" and twenty tiny concerts on the themes of Earth's wild music.
Kathleen is a "public philosopher" who speaks widely and offers workshops about the moral obligation to stop fossil fuels and the climate chaos they are causing. She has addressed audiences ranging from 350.org activists to Nobel Conference scholars to Disneyworld executives and students all over the country, calling people to moral courage as they confront the forces that would wreck the world.
Kathleen is joyously embedded in a family of environmentalists and biologists. Her parents were science educators who led nature walks in the beech-maple forests in Ohio. Her husband, Frank, a neurobiologist, is an expert on amphibian behavior. Their daughter, Erin, is a Professor in the School of Architecture and Environment at the University of Oregon; and their son, Jonathan, holds the Liber Ero Chair in Coastal Studies and Management at Simon Fraser University in British Columbia. They have given Moore three grandchildren who are wildly in love with the world. Kathleen and her husband live in Corvallis, Oregon, but spend summers in a cabin where two creeks and a bear trail meet a tidal cove in Alaska's maritime wilderness.